At 0800 Eastern Standard Time, the Training Ship Empire State was located at 25 degrees and 21 minutes N Latitude, 080 degrees and 00 minutes W Longitude. Miami, Florida was 15 nautical miles to the Southwest. She was steering course 022 degrees true at a speed of 18 knots. The air temperature was 70 degrees and water temperature 72 degrees Fahrenheit; skies were partly cloudy; winds were from the Northeast at 06 knots; barometric pressure was 1023 millibars and rising. Seas were 4 to 6 feet.
CAPTAIN'S LOG
Art hurts. Art urges voyages--and it is easier to stay at home. --Gwendolyn Brooks
Sunday at sea. Even better, Sunday at sea, at anchor! I know mechanical misadventures have complicated the normal definition of an "at sea day" on this voyage. In Curacao, we "simulated" being at sea for a week while we repaired the SSTG set. Our carefully planned schedule was trashed and we were forced to scramble to fit our training requirements into the new calendar. We spent two Sundays in Curacao, one in St. Thomas and one in New Orleans. A Sunday in port, though, is just not the same. Sailors just can't relax in port. There are new places to go, sights to see, and people to meet. Yes, in port, seamen are famous for living life large. And failure to throttle back from the stresses of working 12 hour days in a dangerous work place coupled with another 12 hours in difficult living conditions is unhealthy. So a Sunday at sea on the TSES is a gift from Heaven. I can explain it in one sentence; everyone except the watches and cooks, kicks back. When the ship is at anchor, even the watches can relax a little. We can take a boiler off line and free some in the Engine room and the Bridge watch doesn't have the worry of dealing with forward motion. Most people sleep in, do their laundry, or sit around in the sun.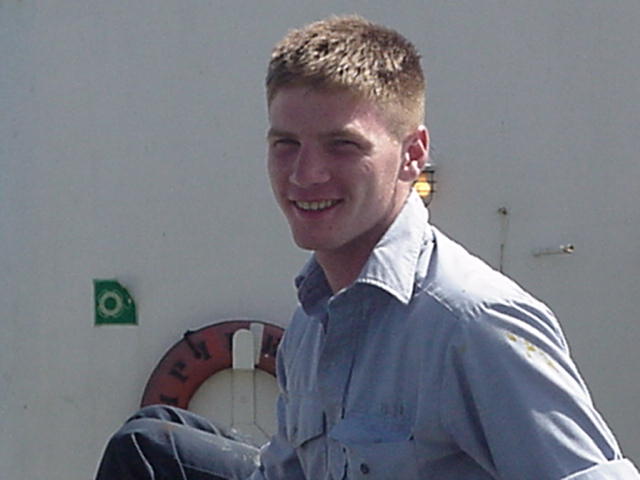 Others just have to be doing something. Last night we had the annual Las Vegas night. The messdeck was fitted out with home made crap tables and a roulette wheel and transformed into a casino, complete with traditional poker, Black Jack, and Ace/Deuce. Well over $250,000 Buc Dollars were wagered. What's a Buc Dollar worth? Well, not too much actually. We print it onboard with pictures of various ships' officers in the places where the dead Presidents belong. Players get $10,000 "Bucs" for $ 5 U.S. dollars. (This real money is always donated to a local charity - Big Brothers Big Sisters is the usual one.) The play is furious for 3 hours and thousands of Bucs hang on the turn of a card or the drop of a ball bearing (what do you think we would use for the roulette wheel?). No one pays any attention to the fact that the money at stake has no value outside our own little world. Tension could be measured with a torque wrench. Why the high anxiety? There's an auction afterward. Players bid on 25 identical, unmarked, sealed envelopes. Each contains a different gift. Some have cash, something in VERY short supply at this point of the sea term. Other envelopes have novelty prizes: a dinner for two at the Captain's Table, a night in a private room - without 159 of your closest friends who have been your constant companions for the last 40 days and 40 nights, or even breakfast in bed served by the Assistant Commandant Ed Rozak! Money winners this year included 1/C Ryan Blake along with 1/C Jeff Bernier, 2/C Mark Darling and 3/C Adam Close. Other winners were 1/C Mike Lewandowski who can enjoy dinner at the Captain's Table as well as one day off his restriction (a get-out-of-jail card)! 2/C Bryan Dunn won breakfast in bed served by LCDR Rozak, 3/C James McCormack will ride the Captain's chair through the Canal on arrival day. 1/C Sean Gingras will be the Regimental Commander for a day (I am not too sure that's a prize!), and finally, 4/C Brian Parker gets to sleep through one morning formation back in Buzzards Bay - Choose wisely!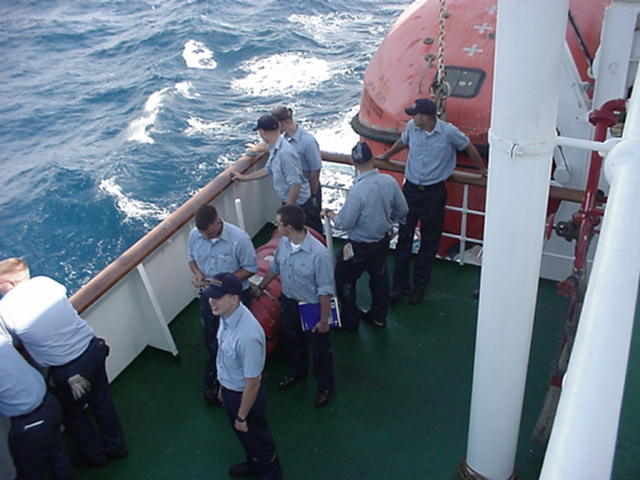 Today was cloudy during the morning while a cold front passed through (which will be good practice for the trip home). We had a beautiful ecumenical religious service on the boat deck aft at 0900. Reverend Jim Houston of Rose of Lima Parish, Northboro, MA (the Academy Chaplain, who joined in New Orleans) did a great job of bringing together many young kids of varying faiths. 'Had some great singing too, by 1/C Eunice Cadorette and 3/C Colleen McRae. After church, we got right down to the business of having fun.
Clear the deck! Three on three basketball - an arduous task aboard ship when the target keeps moving and the court sways and hops. There are twelve teams competing - and a lot of games. Well, the pride of the Third Class came through - the Young Fools prevailed over some dominant senior teams, and took home a $100 bill. 3/C Matt Brooks, Steve Browning and Fred Cleare should be proud, and tired! Skeet shooting off the fantail was next, with a big upset this year. The perennial favorite, CAPT Brad Lima, our engineering coordinator, knew he was in trouble when, during the qualifying rounds, 4/C Ben Young popped three out of three in his first shots. Young went on to win the event, then teamed up with 4/C Steve Speckles to take the doubles. All in all over 600 rounds of 12-gauge shot kept the birds in this part of the world on edge through out the day.
But the focus of a Sunday at sea is FOOD - served all day long. Cookout food (hot dogs, hamburgers, cheeseburgers, linguisa, bar-b-q chicken, sweet Italian sausages, potato salad, cole slaw, chips, etc.) on the boat deck gave way to steaks at dinner time, and tubs and tubs of ice cream. Last up for the last Sunday at sea was the Talent Show. Referred to as the "Lack of Talent" Show in the past, I think we really started something great this year, thanks to some wonderful singing voices. 4/C Heather Wickert and Dana Schwartz sang "the Rose". 4/C Solomon Haddad and Amaury Soto created a skit titled; "A youngies Life". 4/C Jason Rowan sang a parody of "Gilligan's Island" and a blues/gospel duet of 1/C Eunice Cadorette and 3/C Colleen McRae brought down the house with "Love Potion No. 9". Even Professor Alan White got into the show with a repeat performance of his rendition of "Jabberwocky". The true talent and skill in this year's show was unlike any I have ever seen on the training ship and picking a winner was difficult. The first place prize finally went to a trio of female cadets consisting of 1/C Cadorette, 1/C Meredith Jennings and 3/C McRae singing "Rozak, Leave those Kids Alone"! a twist of the Pink Floyd song - but with all the same meanings!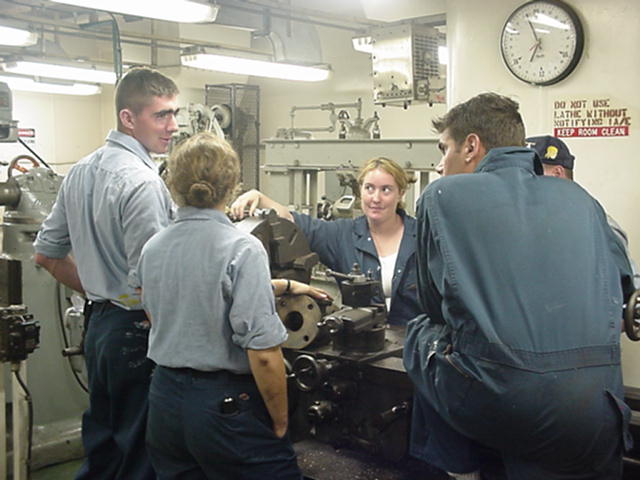 As they say in the society pages, "A wonderful time was had by all". Now we pick up the hook and head for Port Everglades on the East Coast of Florida to rendezvous with a tug from Hvide Marine. Our good friend, Mr. Gerhard Kurz, CEO of Hvide, has graciously offered one of his vessels to transport our men's and women's crew teams to the beach for a week of practice at the top notch training camp there in Fort Lauderdale. Hopefully the investment will pay off at the Head of the Charles Regatta.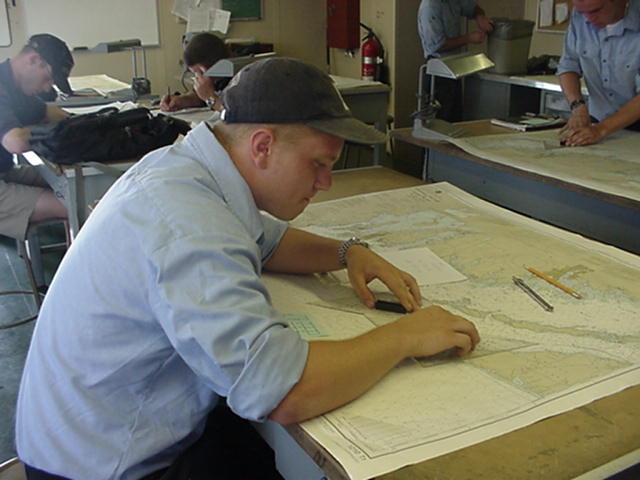 QUESTIONS FOR TUESDAY 20 FEBRUARY
MATH:
The ship traveled at a speed of 4 knots for 12 miles then increased speed to 6 knots for the next 12 miles. What was the average speed? Be careful.
SCIENCE:
What do we call the days when the sun is directly above the Tropic of Cancer or the Tropic of Capricorn? At what latitudes are these two imaginary lines that mark the sun's farthest travel north or south? What is the tilt or the earth's axis in degrees?
GEOGRAPHY:
The TSES will travel up the Eastern Seaboard of the United States and past nearly all of the first thirteen colonies. Name them.
HISTORY:
During what years did Presidents Washington and Lincoln serve as President?
ANSWERS FOR MONDAY 19 FEBRUARY
MATH:
(78 + 86 + 96 + 94 + X) divided by 5 = 88
(354 + X) divided by 5 = 88
354 + X = 440
X = 86
SCIENCE:
Equinox is Latin and means equal nights. September 22.
GEOGRAPHY:
Pelican State
HISTORY:
1. TRUE
2. FALSE: IT HONORS PRESIDENT LINCOLN AND PRESIDENT WASHINGTON.
3. TRUE
4. TRUE
5. FALSE: HE WAS NAMED ABRAHAM.
6. TRUE: WASHINGTON ON $1.00 LINCOLN ON $5.00
7. FALSE JAMES MADISON WROTE THE CONSTITUTION: FEDERALISTS PAPERS
8. FALSE: ONLY PRESIDENT LINCOLN WAS SHOT.
9. TRUE
10. FALSE: PRESIDENT WASHINGTON'S BIRTHDAY IS FEBRUARY 22,1732 - PRESIDENT LINCOLN WAS BORN ON FEBRUARY 12, 1809.