At 0800 Atlantic Standard Time, the Training Ship Empire State was located at 18 degrees 15 minutes N Latitude and 64 degrees 50 minutes W Longitude and at anchor in the harbor at Charlotte Amalie, St. Thomas. The air temperature was 80 degrees and water temperature 78 degrees Fahrenheit; skies were clear; winds were from the East at 10 knots; barometric pressure was 1018 millibars and rising, relative humidity was 79 percent.
CAPTAIN'S LOG
What we do is less than a drop in the ocean. But if that drop were missing, the ocean would lack something. Mother Teresa
I would like to start the Captain's Log with the clichéd comment, "just another day in paradise", but it isn't true. Oh, today is another beautiful Monday, and St. Thomas is as close as we get to paradise, but today is different.
Commander Joe Domingos, Deputy Commandant of Cadets for many years, heads off this morning to begin a new phase in his long and distinguished career at Massachusetts Maritime Academy. Thereby ending his participation in Sea Term 2001 early, and breaking a remarkable tradition that goes back twenty seven years. Joe is now our head football coach and he must attend to important duties at home. He will meet the ship when we return but his commanding presence will be greatly missed by all of us. We share wonderful memories of exotic ports and colorful people that include my days as a cadet. Heaven only knows the influence that he has had on young lives but rest assured; he has appropriately "calibrated" a few in his day.
Joe is an excellent shipmate and beyond the camaraderie that will be impossible to replace, we will find it necessary to make new arrangements for morning coffee. He hits the deck long before dawn and consistently starts the coffee pot early. Those of us who snooze until daylight are accustomed to waking with the enticing aroma of freshly brewed coffee wafting throughout the upper decks and passageways. Tell me, how do you replicate that?
Given his numerous sea term exploits, I feel certain that his actions will become creative fodder for myriad sea stories even before his feet touch the pier, and JoDo stories will surely enliven alumni events for years to come. So Commander Joseph F. Domingos, shipmate extraordinare, fair winds, and following seas. Thanks for the many, many years of dedicated service...We'll miss you here.
Now back to the log...
Giant Passenger ships. They are all around us and are really something to see. Just this morning, I was on the bridge wing sipping coffee with the Second Mate and two cadets while we watched a docking operation unfold at the nearby pier.
We watched in wonder as the Carnival Destiny, 75,000 tons of pristine steel, slipped perfectly into the dock- with no tug assistance at all. A feat of seamanship, you say, well not quite. As one scans the strikingly sleek hull, the mariner's eye is naturally drawn to the waterline where ominous symbols warn of powerful, athwart ship thrusters- three at the bow and three more astern. These huge motorized accessories are set into the hull to move the huge ship sideways. They compliment the twin propeller propulsion system and dual rudder arrangement. When skillfully used in combination, these tools enable the Captain to pivot the ship in place and reverse course in the ship's length. The Captain can make the ship do the foxtrot!
Now, compare and contrast those modern capabilities with the period equipment aboard the Empire State. She has one propeller and one rudder. That's it. We are forced to use tugs; often two of them. Then comes the issue of cost. We may pay thousands of dollars in tug fees in each port that we visit.
Thirty years ago, the future of the passenger ship industry was very bleak. Jet aircraft made ocean liners obsolete and the few remaining liners catered to the rich who wanted to travel and had the time to waste getting there. I am positive that no transoceanic passenger liners regularly operate today. The only opportunity to cross the Atlantic on a ship now is when one of these floating hotels repositions from the Med to the Caribbean when the seasons shift. However, the cruise ship business has just exploded. Ships today are built just to take people on a ride, keeping them amused and entertained along the way. Although almost all cruise ships are foreign flag and have few U.S. officers, that appears to be changing. We have several cadets completing Commercial Shipping assignments aboard these floating hotels during this winter term. Cadets could work these ships now, and several are likely do so in the immediate future.
Will that be fun? I intend to find out, first hand. With the able assistance of our friendly, alumni pilots here in St. Thomas, I am the invited guest of the Captain of the Carnival Destiny when she sails this afternoon! I will report tomorrow...unless I decide at the last moment, to stow away. Stranger things have happened in paradise.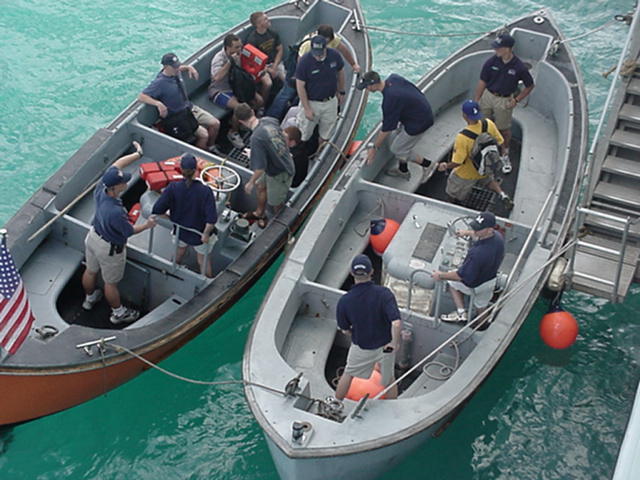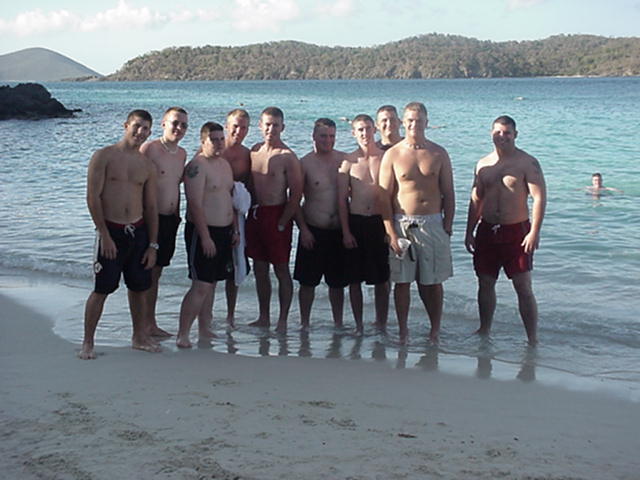 QUESTIONS FOR TUESDAY 06 FEBRUARY
MATH:
The Cadet Chief Mate instructed a freshman to locate 8 square feet of canvas. The freshman returned with an 8 feet square piece of canvas instead. Find the difference in the sizes.
SCIENCE:
The earth's surface is comprised of land and water. What percent of the total surface is water? Of that, what percent is fresh water?
GEOGRAPHY:
Central America's longest cave is nearly sixty miles in length. Name the cave system. In what countries is it located?
HISTORY:
How long ago was the time of earliest recorded life on earth? How many millions are in a billion?
ANSWERS FOR MONDAY 05 FEBRUARY
MATH:
9/35 x X/105
35X = 9 x 105
35X = 945
X = 27 - Cooks need 27 heads of lettuce.
SCIENCE:
Galaxies
GEOGRAPHY:
We live in the earth's biosphere.
HISTORY:
Ice Age. The earth last entered one some 2.5 million years ago