February 2001
Sun
Mon
Tue
Wed
Thu
Fri
Sat
1
2
3
4
5
6
7
8
9
10
11
12
13
14
15
16
17
18
19
20
21
22
23
24
25
26
27
28
Jan Mar


At 0800 Eastern Standard Time, the Training Ship Empire State was located at 25 degrees and 40 minutes N Latitude, 083 degrees and 05 minutes W Longitude. The Dry Tortugas were 60 nautical miles to the South. She was steering course 165 degrees true at a speed of 10 knots. The air temperature was 67 degrees and water temperature 70 degrees Fahrenheit; skies were foggy with 100 percent relative humidity; winds were from the Southeast at 02 knots; barometric pressure was 1020 millibars and rising. Seas were flat. Depth of water beneath the keel was 186 fathoms.
CAPTAIN'S LOG
When you educate a man you educate an individual, but when you educate a woman, you educate a nation. --Johnetta B. Cole, 1993
If it's Saturday it must be the Dry Tortugas! Continuing our past practice of tilling a different part of the sea bottom each day with our 8 ton black plow called an anchor, we have moved to the southernmost tip of the continental United States. Our Saturday anchoring exercise is planned for a tiny group of islands at the western end of the Florida Keys. Key West? No, accessible only by boat or seaplane, these islands are 70 miles beyond that city that toasts Hemingway and the setting sun. Juan Ponce de Leon, in his search for riches and the fabled fountain of youth, was the first European to stumble across this desolate atoll in 1513. He named it " Las Tortugas" for all the marine turtles he found there. In 1819 the Tortugas were annexed into the United States with the rest of Florida and were soon tagged with the "Dry" part of their present name due to the lack of any fresh water.
(For more on the Dry Tortugas, now a U.S. National Park, click here: http://www.nps.gov/drto/ )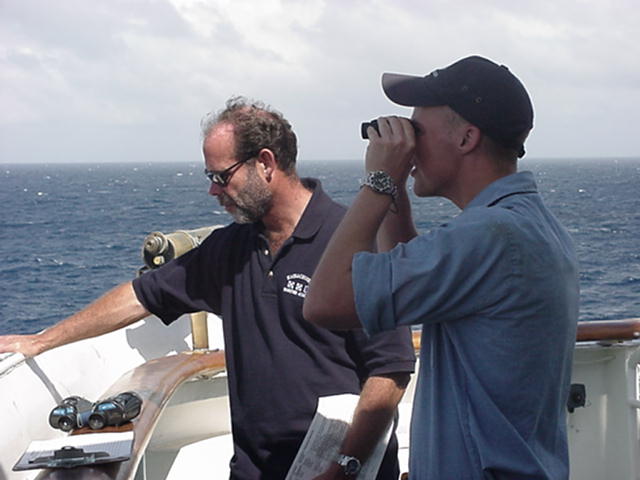 As we approach the cluster of small islands, barely keeping their head above the warm tropical waters, a hulking, brick fortress looms. In 1846, the building of a massive shore defense installation, called Fort Jefferson, was begun to protect the Straits of Florida and the southern approaches to the United States. It was the largest masonry fortification in the Western Hemisphere, but was rendered quickly obsolete when the rifled gun was invented. The fort was never completed, and when the Civil War began, Fort Jefferson became a Union prison. The most famous resident of that prison was a doctor named Samuel Mudd. Early in the morning of April 15, 1865, in Waldorf, MD, a man with a broken leg knocked on Mudd's door and awakened him, asking for help. Mudd put a splint on the leg and allowed the man to rest in an upstairs bedroom for 8 hours. John Wilkes Booth, who had shot President Lincoln only hours before, then hobbled to his horse, and rode away. At his trial, Mudd declared his innocence, but the military court convicted the known Confederate sympathizer as an accessory after the fact and sentenced him to life in prison. He was sent to Fort Jefferson in the Dry Tortugas, also know as "Shark Island" for the natural moat of sharks that circled the barren outpost. After he attempted escape, Mudd was kept in chains for 2 years. Mudd was vilified throughout the North and expressions such as "your name is Mudd to me" were attributed to his unpopularity.
Curiously, it was an outbreak of yellow fever on Fort Jefferson that proved fortuitous for Mudd. After the prison doctor and all four of the nurses died from the scourge that leads to internal bleeding, black vomit, and mental deliriums as it turns the victim's skin a dull yellow color, Mudd stepped in. Helped by another doctor from Key West,and at considerable personal risk, he assisted the afflicted prisoners, staff, and guards. In 1869, out going President Andrew Johnson, on one of his last days in office (does this sound familiar?), pardoned Mudd for his good works. Mudd returned to his Maryland farm, and died there in 1883. In later years Mudd's grandson and others tried to have him exonerated, claiming he was ignorant of the plot to kill the President, but they have had only partial success. His great-great grandson, who lives in Duxbury, MA, is also a Doctor and an acquaintance of mine. I met him on a fishing charter when he introduced himself as Dr. Mudd and I asked if he was "any relation to"...
by Captain Tim Brady
(For more on the story, click here: http://www.cwmuseum.org/famous_prisoner.htm )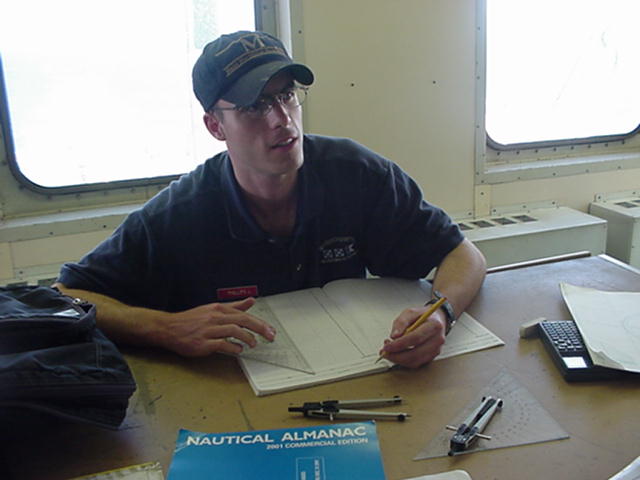 We intend to remain anchored overnight here in these sleepy atolls and depart at 1700 on Sunday, 18 February. Even though they are the "Dry Tortugas", water is not a problem for us. Despite the fact that we have a few hundred teenagers aboard, famous for taking long showers, we make our own water! Sunday will be a day of rest, reflection, and preparation for we will soon round the tip of Florida and return to the bold, cold waters of the Atlantic. It has been warm down here for the last month and we don't relish the return to the remnants of winter in New England, but the warm welcome of our loved ones is now the climate we all crave. 'More tomorrow on our last full "Sunday at sea".