---
Enterprise
, 1892-1909.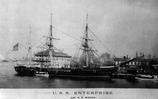 Former USN bark-rigged screw sloop-of-war; enabled Massachusetts Nautical School to become first maritime academy to train engineering students.
---
Ranger
, 1910-1917.
Former USN steam brig. Returned to Navy for use in World War I.
---
Nantucket
, 1918-1941

Ex-USS Ranger. Berthed at North End Park on Commercial Street in Boston where, in November, 1941 it was renamed Bay State. Its original engine resides in Museum of U.S. Merchant Marine Academy at Kings Point.
---
Keystone State
, 1942. Borrowed from Pennsylvania Maritime Academy. Wartime cruises limited to Long Island Sound and Chesapeake Bay.
---
Seneca
, 1942. Cutter, borrowed from USCG.
---
American Pilot
, 1943-1945.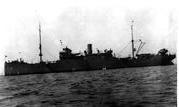 Hog Islander, built in 1919 for U.S. Shipping Board; converted ca. 1931 to Training Ship Empire State (the first), then in 1943 to American Pilot.
---
American Mariner
, 1946.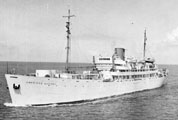 Liberty, briefly George Calvert, renamed on the ways to become U.S. Maritime Service training ship. First vessel since Nantucket to sail foreign (Cuba, Bermuda).
---
Yankee States
, 1947.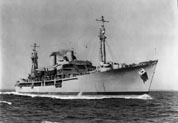 Ex USS Sirona, AKA. Shared with Maine Maritime Academy. Crossed equator to Brazil; accidental death of a cadet in Recife.
---
SC 1321
, 1946-1948.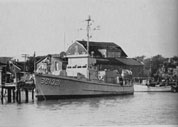 In the spring of 1946 it was delivered to MMA, tied up at Baxter's Wharf (current site of the Nantucket Steamship Authority ferry), and used for training in seamanship, piloting and diesel engineering, it cruised chiefly on weekends from Provincetown to Nantucket and Newport, RI. Round-the-clock cadet watches were maintained when tied up at Baxter's. Although much appreciated by the cadets, the ship proved impractical and was returned to MarComm in 1948..
---
Charleston
, 1948-1957.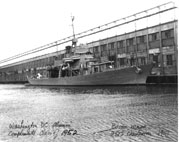 Ex-Navy patrol gunboat Charleston IV (PG-51). Built at Charleston Navy Yard and commissioned 8 July 1936. First cadet cruise brought it from west coast through the Panama Canal to Massachusetts. 1957 cruise its last for MMA, while it overlapped acquisition of Bay State II.
---
Bay State II
, 1957-1973.

Ex-USS Doyen.
---
Bay State III
, 1974-1978.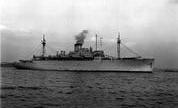 Ex-Empire State IV, ex-Henry Gibbins.
---
Empire State V
, 1979. Ex-USNS
Barrett
, borrowed from New York Maritime Academy; first of three Barrett class (T-AP) vessels.
---
Bay State IV
, 1980.

ex-USNS Geiger, ex-President Adams, taken from APL during construction; Barrett class. Summer cruise, stability problem, no cruise in 1981; fire aboard resulted in death of a cadet, gutted engine room, while ship at State Pier, preparing for winter cruise.
---
State of Maine
, 1982-1983.
Ex USNS Upshur, Borrowed from Maine Maritime Academy; Barrett class.
---
Empire State V
, 1984.
Borrowed from State University of New York (SUNY Maritime).
---
State of Maine
, 1985.
Borrowed from Maine Maritime Academy.
---
Patriot State
, 1986-1998.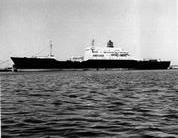 Ex-Santa Mercedes. No cruise in 1987.
More info here.
---
Empire State VI
, 1999 - 2003.

Borrowed from State University of New York (SUNY Maritime).
---
Enterprise
, 2004 - .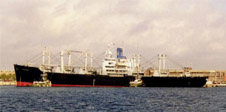 Former Cape Bon. Re-commissioned 2003 after her five year conversion.
More info here.
Updated: February 20, 2004.