The following are pictures of MMA students who are involved in the removal of equipment aboard the TS Patriot State (which is being taken out of sea service as of October 1999). The equipment will be used for training in our shore side facilities and our new Engineering Lab building (groundbreaking scheduled for June 2000).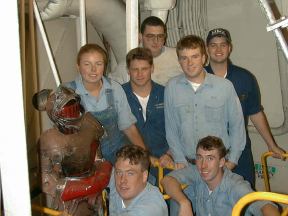 Cadet w/knight engineer:
Front 1/c Bob Kenny, 2/c Dennis Kenny
Middle: 1/c Stephie Lyons, Mike Cedrone, Tim Fitzgerald
Back: 1/c Murphy, 1/c Peter Eident
---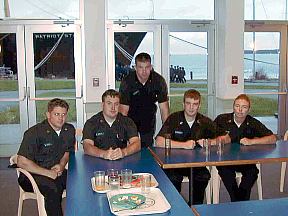 Cadet Supervisors
Cadet Project Manager: Mike Cedrone, Bob Kenny, Rob Stewart, Tim Fitzgerald, Stephie Lyons
---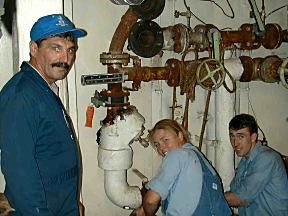 Domestic Reefer
Bos'un Vick Cordeira supervises Stephie Lyons and Dennis Kenny remove a back pressure regulator from the fwd reefer unit
---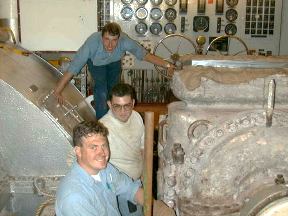 HP Turbine
Bob Kenny, 1/c Kevin Murphy, Dennis Kenny in the process of separating the cross under pipe from the HP turbine.